SUPER NATTOGEN
Fermented food "natto" that has been passed down since ancient times in Japan.
Capsule of plant origin
CONTENTS : 330 tablets(1tablet = 250mg)
DAILY INTAKE : 5~7 tablets
LIST PRICE : ¥38,500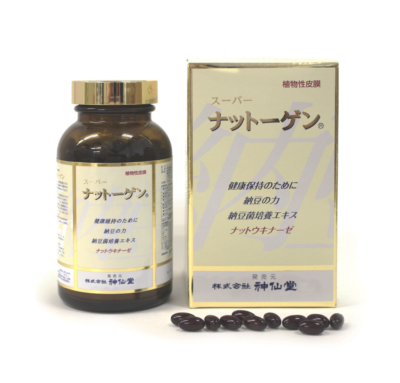 The reason why natto is chosen.
Natto is one of Japan's most proud fermented foods made by fermenting soybeans with natto bacteria. There is a big difference between natto-kin and nattokinase. Natto-kin is sometimes called a bacillus and is a kind of rod-shaped bacterium. Bacillus natto is a bacterium that has the characteristic of living in straw and grows by dividing cells with air.
"Nattokinase" is an enzyme produced by Bacillus natto.
"Nattokinase" has a function of improving blood flow.
Red yeast rice has an important role in lowering bad cholesterol(LDL) and raising good cholesterol(HDL).
The new product is the latest supplementary dietaries containing natto bacteria culture extract, red yeast rice powder, black vinegar mash, vitamin E, soybean lecithin, and soybean oil. Furthermore our product "Nattogen" does not have a peculiar smell or stickiness, so even those who do not like natto can take it without worrying smell or stickiness.
Still more, the capsule with a vegetable film lets people who are vegans or live on a vegetarian diet take it with no worries. Our healthy food is especially recommended for those who usually like high-calorie food and tend to lack exercise.